At Party Barn Boat & RV Storage, we totally get it! You don't want your new Winnebago Via sitting outside in the elements. Hail damage to that vehicle could be devastating! And your shiny Monterrey Surf Edition doesn't belong out in the elements either! That is why we offer covered storage for your boats, RVs, and campers.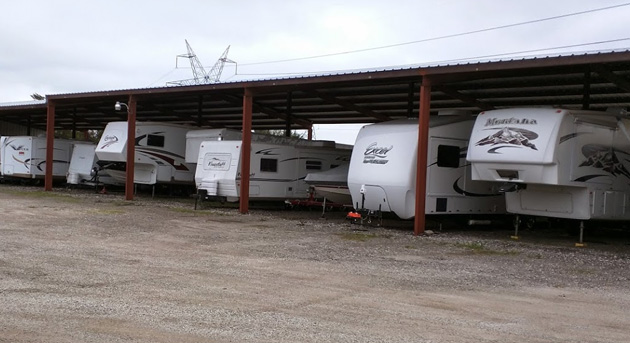 Covered storage comes in several varieties. We offer covered storage with and without electricity. We also offer a few different clearance levels—9.5′, 11′, and 11.5′. This will allow you to pick appropriate storage for your needs. We want our customers to feel confident when their vehicles are in storage. Rest assured that they are safe from the elements, intrusion, and anything else that might keep a boat or camper owner up at night.
However, if your boat or camper has been around for a while and you aren't as concerned with potential weather-related damage, uncovered storage is the less pricey option. Uncovered storage spaces are 12′ by 30′.
Or if you would really just feel better if your vehicle was in enclosed storage, we offer that as well. The spaces come in the same dimensions as the uncovered storage. The only difference is you can choose between 8′ clearance and 9.5′ clearance.
No matter what storage option you choose, Party Barn Boat & RV Storage is located conveniently between Lake Lavon and Lake Ray Hubbard. That way you can come pick up the boat and head out to the lake without a lot of extra tasks or miles out of the way. Storage is perfect for people with HOAs, people that don't have enough room at their own home to store their campers, RVs, or boats, and for people that just want to keep those vehicles out of the way and out of eyesight.
For more information about covered storage at Party Barn Boat & RV Storage, contact us today.