To quote David Allan Coe, the upcoming summertime months may soon have you "cussin' the sweat and the Texas heat, and the skeeters." We can't stop that Texas heat, but we can sure help protect your boat or RV from it! Here at Party Barn we offer a variety of covered storage options with varying heights and amenities.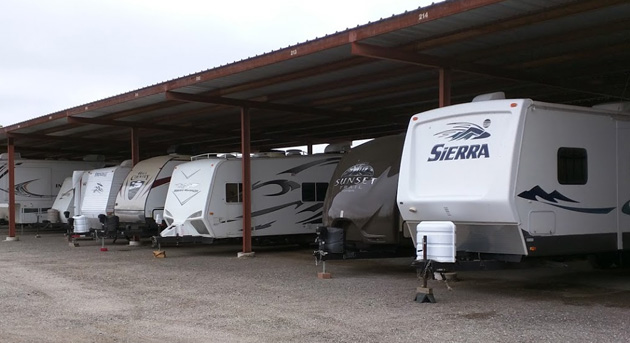 Electricity is available in some of our covered areas, which is perfect when you've fished 'til sunset and need a little more daylight to sanitize your boat to prevent the spread of those pesky Quagga Mussels. You won't have to tell tall tales about the size of your catch when you have those extra hours to really snag the big one. Or what if your Queen of the RV has requested a last-minute canopy upgrade before the big road trip? We've got you covered. (Literally.) Not only will you have the space to get some work done, you'll have the light to do it after dark if it is necessary.
For those "nine-to-fivers" who simply need a place to park their pride and joy out of the sun while they daydream of lake days from their desk, we offer a perfectly simple solution in our non-electric covered areas.
It is a well-known fact that our beloved Texas sun can do quite a number on boat upholstery, RV accessories, and even trailer tires. Cracking seats, chipping paint, and leaky roofs are a drain on your budget and your precious hours off work. Covered storage helps to protect your investment and ensure she is ready to run for many more summers to come. In addition to providing that much-needed shade, you can be certain your boat or RV is safe and secure in our gated facility. We offer covered storage and more just a stone's throw from two of the best lakes in the tri-county area, so contact us at Party Barn Boat & RV Storage. We're the perfect jumping-off point for every adventurer.