One of the benefits of living an RV lifestyle is to travel to warmer or cooler climates according to your personal preference. Perhaps you like to seek cooler temperatures when the Texas heat is blazing; or maybe you prefer to travel and explore during winter months when there are fewer vacationers on the road. However, there may be times when your schedule dictates that your travel plans be put on hold. When this is the case, where do you store your RV?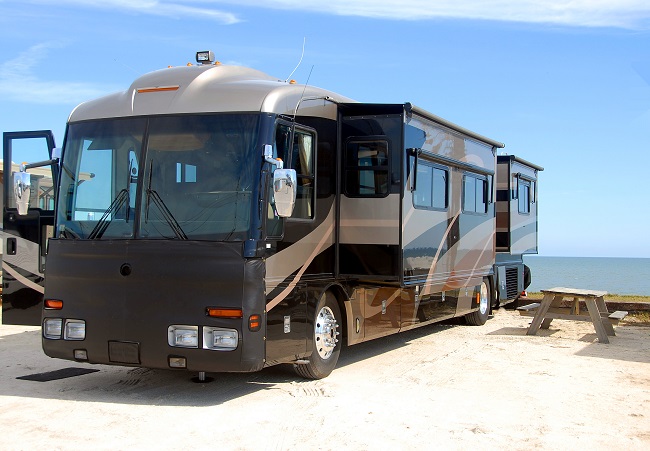 Parking an RV in a residential neighborhood is a rarity as there likely is inadequate space for RV storage in the garage, side yard, or behind the house. Additionally, parking an RV in a residential area may be banned by city ordinances due to height restrictions, blocking the sidewalk, potential hazards while backing in/out to park, or exceeding the maximum number of parked vehicles per house.
Party Barn Boat and RV storage offers plenty of space, protection, easy access, and peace of mind to protect and store your RV any time of the year. We have 150 storage spots available. You choose whether your needs require uncovered, covered, or enclosed storage. Our storage property is securely gated and accessed only via security code. We are conveniently located near Lake Lavon and Lake Ray Hubbard, just a short drive from the Dallas suburbs. We offer flexible rental agreements including monthly, quarterly, semi-annually, and yearly to meet your needs.
Before bringing your RV to Party Barn Boat and RV storage, consider these tips when preparing your RV for storage:
Clean your RV inside and out to prevent mold and mildew.
Ensure all food is removed to avoid attracting unwanted critters.
Cover your RV with a breathable cover (or consider enclosed storage to protect from weather and pollen).
Cover your tires to reduce UV damage to them.
Flush and clean all tanks.
Cover the water heater, furnace, and refrigerator vents.
Consider adding biocide to the fuel tank to deter algae growth in the fuel.
Defrost and dry out the freezer and refrigerator, and place a box of baking soda inside to eliminate odors.
Summer, fall, winter, or spring – contact us today for reservations and storage rates. We have a spot waiting for you!