Spring is almost here! If you love adventure as much as we do, then this can only mean one thing to you: It's time to get your RV in shape. You're probably experiencing the excitement of knowing you can hit the road for springtime travel with your RV again. It's, however, time for some spring maintenance before you can enjoy that amazing vacation.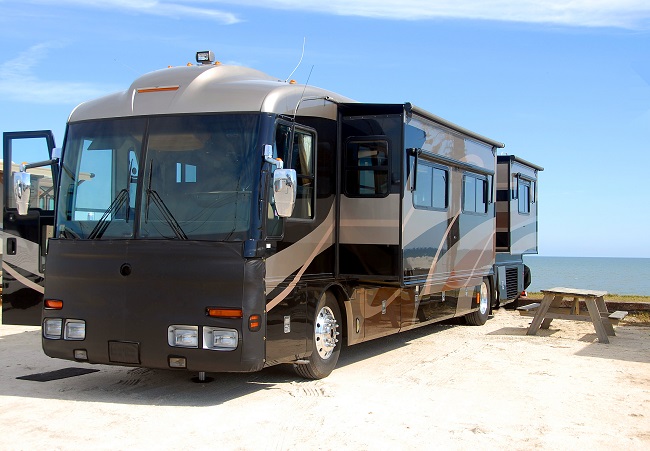 In this guide, we'll cover everything you need to know about getting your RV ready for spring.  But first…
Why Should You De-winterize Your RV? 
To get it ready for springtime travel!
Before you put your RV in storage, you probably added chemicals such as antifreeze to prevent the freshwater from freezing and damaging the lines, pipes, and tanks. Now that the temperatures are rising, your RV plumbing no longer needs them.
De-winterizing also involves conducting a series of inspections and checks on the interior and exterior systems to ensure they're okay.
Can I De-winterize My RV at Home? 
Yes.
You should note that even though de-winterizing your RV may seem easy, it's important that you take your camper to a professional RV technician. There are, however, some steps you can take to expedite the process:
Check for roof damage: If you stored your RV under a solid roof or rented enclosed storage and then covered it, there's a high chance it doesn't have roof damage. We, however, recommend that you conduct a roof inspection to check for rust, cracks, or small leaks.
Inspect all appliances: Ensure all appliances including the microwave, awning, grill & stove are working as they should.
Check the tire pressure: Your RV will have lost about 3 psi every month so it's important that you inflate them. Make sure you also check for leaks or cracks on the main and spare tires.
Check the RV batteries: Ensure the batteries aren't cracked or corroded. You should also check the fluid levels and replace the battery if it's damaged.
Most importantly, clean up your RV to get rid of the dust and dirt and conduct a visual inspection to check for additional issues such as mold growth. Note down every problem you encounter for the technicians to fix.
Contact Party Barn Boat & RV Storage Today!
The RV de-winterization process is complex. You can, however, make the process easy by ensuring your RV is properly stored when not in use. Let us help you keep your RV safe. Contact us today for the best RV storage solutions!